| Standard VAT Rate | Digital Reporting Requirements / E-invoicing | VAT on Cross-Border Electronically Supplied Services | Tax Authority Website |
| --- | --- | --- | --- |
| 20% | Yes | Yes | Financial Administration of Slovakia (Finančná Správa) |
VAT Rates in Slovakia
The standard Value Added Tax rate (Daň z pridanej hodnoty (DPH)) in Slovakia is 20%, with some services exempt from Slovakian VAT, such as financial services, postal services, health care, etc.
| VAT Rates | Rate Type | Description |
| --- | --- | --- |
| 20% | Standard Rate | Applies to all taxable supplies, with certain exceptions. |
| 10% | Reduced Rate | Meat and dairy products, certain vegetables, pharmaceutical products, etc. |
| 0% | Zero Rate | Intra-Community supply of goods, export of goods to non-EU countries, etc. |
VAT Registration Thresholds in Slovakia
VAT registration threshold for domestic established sellers: businesses with a turnover of EUR 49,790 within 12 preceding consecutive calendar months shall be obliged to file a tax registration application with the tax office. Voluntary registration is possible below the threshold.
VAT registration threshold for non-established sellers: There is no VAT registration threshold. Foreign businesses should file an application for tax registration at the Tax Office Bratislava before commencing an activity that is subject to VAT except for the importation of goods. However, the Slovakian VAT Act specifies some performance of supplies of goods or services in Slovakia, that do not trigger the registration obligation, for example, certain zero-rated transport services and zero-rated services ancillary to transport services, etc.
VAT registration threshold for intra-EU distance selling of goods and B2C telecommunications, broadcasting & electronic services (TBE): EUR 10,000 (net) per calendar year.
VAT registration threshold for non-resident, non-EU based suppliers of Electronically Supplied Services (ESS): No registration threshold.
Slovak VAT Number Format
Slovakia issues Tax Identification Number (TIN) (Identifikačné číslo pre daň z pridanej hodnoty (IČ DPH)) only for natural and legal persons who perform business activities within the country and who has tax registration obligation. TIN is not issued for citizens who do not have tax obligations.
For individuals and businesses, the Tax Identification Number (TIN) consists of 10 digits.
As regards VAT registration, the number consists of the prefix "SK" and TIN:
For individuals

Format: 9999999999

For businesses

Format: SK9999999999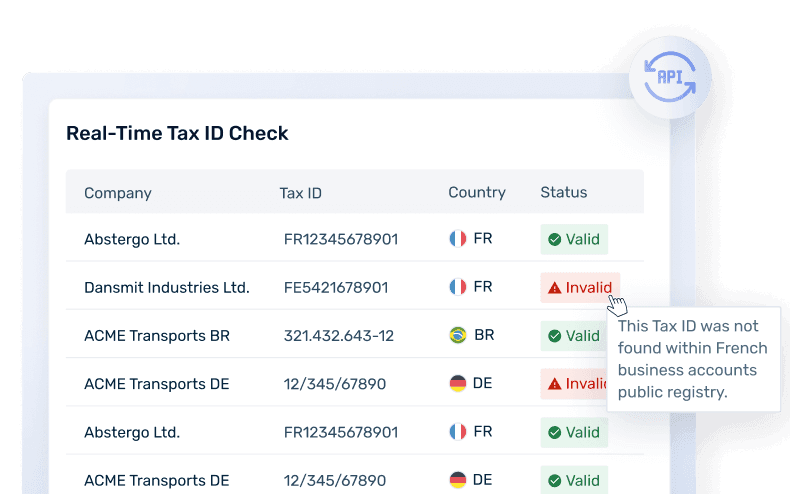 VAT on Electronically Supplied Services (ESS) in Slovakia
Digital Services in the European Union (EU) are often referred to as electronically supplied services (ESS). Slovakia applies the harmonized EU VAT rules for ESS.
For B2B supplies of such services, the general place of supply rule for services has to be taken into consideration.
For B2C supplies, the EU ESS rules should apply to foreign companies selling to Slovakian consumers.
Under the EU's B2C ESS rules, until the sales value reaches EUR 10,000 (including distance sales of goods), the seller can charge VAT where it is resident. Once the sales exceed the threshold, the seller should register for VAT in Slovakia, or it can choose to account for the VAT under the EU's One Stop Shop (OSS) regime.
VAT Rate: 20% VAT is typically applied to the sale of affected Electronically Supplied Services.
Examples of taxable ESS in Slovakia
Website supply, web-hosting, distance maintenance of programs and equipment
Supply of software and updating thereof
Supply of images, text, and information and making available databases
Supply of music, films, and games, including games of chance and gambling games, and of political, cultural, artistic, sporting, scientific, and entertainment broadcasts and events
Supply of distance teaching
Will your business need to pay VAT on digital services in Slovakia in 2023?
Learn More About VAT on Digital Services in Slovakia
Marketplace & Platform Operator Rules in Slovakia
Slovakia applies the harmonized European Union's (EU) VAT rules for marketplace & platform operators.
Supply of goods
A marketplace is deemed to have received and supplied the goods themselves. This transaction is split into two supplies:
A supply from the underlying supplier to the marketplace (deemed B2B supply)
A supply from the marketplace to the final customer (deemed B2C supply).
This rule covers the following:
Distance sales of goods imported to the EU with a value not exceeding EUR 150
Supplies of goods to customers in the EU, irrespective of their value, when the underlying supplier is not established in the EU (both domestic supplies and distance sales within the EU are covered).
Supply of services
When electronically supplied services are sold through an intermediary, e.g. a marketplace for applications, the intermediary is deemed to have received and supplied the services themselves. Therefore, the VAT liability shifts to the intermediary from the underlying supplier.
Invoice Requirements in Slovakia
According to the Slovakian VAT Act, invoices should contain the following data:
Document & general transaction information

Invoice sequential number
The date when the goods or services were supplied or when the payment was received, if this date can be determined and differs from the invoice issue date
The invoice issue date

Supplier information

Name, address, and tax ID number

Customer information

Name, address, and tax ID number

Financial transaction information

Quantity and description or type of the goods delivered or services performed
The taxable amount for each VAT rate, the unit price without VAT, and reductions and discounts, if these are not included in the unit price
VAT rate or the exemption applied
The amount of the VAT due (in EUR)

Additional information that may be required:

Reference to VAT exemption
Reference to self-billing
Reference to reverse charge mechanism
The information about a new means of transport supplied
Reference to Margin scheme — Travel agents
Reference to Margin scheme — Works of art or Margin scheme — Collector's items and antiques or — Margin scheme – Second-hand goods
Tax representative data: name, address, tax ID number
The taxpayer may issue a simplified invoice if the total amount of the invoice does not exceed EUR 100. The simplified invoice should not contain the customer's data and the unit price.
E-Invoicing & Digital Reporting for Slovakia
Currently, e-invoicing and digital reporting are not mandatory in Slovakia but are permitted. Although, the Ministry of Finance is working on the introduction of the Slovakian e-invoicing system. It is likely that e-invoicing for B2G transactions is expected to become mandatory from April 2023 and there are proposals in relation to the extension of the obligations to B2B transactions too, but to date, the proposed draft law is yet to be approved.
In the first half of 2019, a new requirement was introduced in Slovakia, which mandates all cash registers to have a direct online connection to Slovak Financial Directorate through a system called "eKasa". Through this system, all transaction data is transmitted automatically to the Tax Authorities. Additionally, the use of electronic cash registers abolishes the need to print bills if the customer agrees to receive the bill via email.
Learn more about E-Invoicing and Digital Reporting in Slovakia
Governmental Body Responsible for Invoicing in Slovakia
In Slovakia, the Financial Administration (Finančná Správa) is the governmental body responsible for tax matters.
VAT Payments and Returns in Slovakia
Full VAT Returns
| | |
| --- | --- |
| VAT Return Name | Tax return for value-added tax |
| Filing Frequency | Taxpayers should file their VAT returns on a monthly basis. However, taxpayers may opt for quarterly filing if at least 12 months have elapsed since they become a taxpayer and their annual turnover has not exceeded EUR 100,000 for the previous 12-month period. |
| Online filing | Online transmission is mandatory |
| Annual Return | No |
| Filing deadline | A tax return shall be submitted by the 25th day following the tax period |
| Payment deadline | VAT payment shall be made by the 25th day following the tax period |
| Payment currency | EUR |
| Language | Slovakian |
| Local VAT acronym | Daň z pridanej hodnoty (DPH) |
Slovakia does not provide simplified VAT returns for VAT-registered non-resident taxpayers supplying electronically supplied services. Instead, they can avoid VAT registration in Slovakia and use the EU One-Stop Shop (OSS) return.
Penalties in case of late filings or misdeclarations
In the case of the late filing of VAT returns and payments, the Slovakian Tax Authorities enforce the following penalties:
If a taxpayer fails to file the VAT return within the specified time limit, a penalty between EUR 30 and EUR 16,000 might be imposed.
The penalties for non-compliance with the reporting requirements range from EUR 30 to EUR 3,000.
If a company fails to comply with the registration obligation within the specified time limit, a penalty between EUR 60 and EUR 20,000 might be imposed.
For late payment of VAT, the late payment interest rate is determined by taking the greater value between an annual interest rate of 15% or four times the ECB's interest rate.